Ford 6.0L Ball Tube Removal Tool
Ford 6.0L Ball Tube Removal Tool
Product Description
HAVING TROUBLE WITH POWERSTROKE INJECTORS?
If the seal of your injectors where they connect to the High Pressure Oil Manifold look like the
example pictures above and below than you more than likely have a failed, or failing O ring problem
in the High Pressure Oil Manifold itself. High pressure oil in excess of 3,000 psi blasts past the O ring
sealing the cup in the High Pressure Oil Manifold and travels along the nipple of the cup into the
opening where the injector connects. This eats away at the seal from the top side until it eventually
fails. In the example below the seal on the left is New, the seal on the right has been subjected to this
condition. As you can see the bulk of the damage is coming from the right which in this case was the
top side as it was installed in the injector. This side should not be exposed to any exterior high pressure
oil at all. The only place this can come from is the High Pressure Oil Manifold O ring failure. In most cases
by the time the problem is diagnosed properly the cup/nipple is damaged beyond being able to be reused also.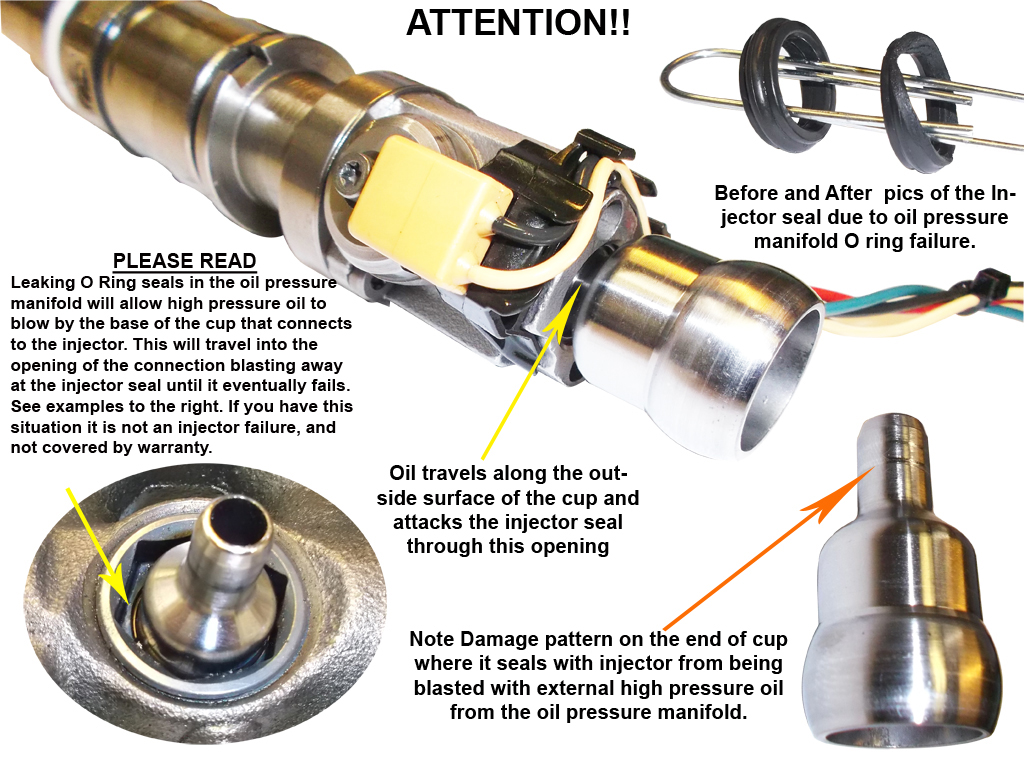 In the past this is only repairable by replacing the entire High Pressure Oil Manifold as a unit from
Ford OEM. We have a source to now be able to sell Brand New kits which consist of (1) Cup/Nipple
and O ring #ISK606 for $39.95 ea. You can rebuild both of your High Pressure Oil Manifolds for what
it presently will cost you for one OEM replacement. You will need a specialty removal tool #ISK607
$59.95 ea. Any Technician or Powerstroke enthusiast should have this tool in your toolbox. This is
a huge problem with 6.0 powerstroke engines, and has gone virtually unnoticed and misdiagnosed
for years. Do yourself a favor, If your replacing injectors anyway, REPLACE the High Pressure Oil
Manifold Cup/Nipples & O rings at the same time.
Warranty Information
This product has a 13 Month Unlimited Mileage Warranty through Bostech Auto, www.bostechauto.com

ForDiesels does not Manufacture any product sold on our site, warranty is applied through the manufacturer/remanufacturer of the individual product.

All returns must have an RMA (Return Merchandise Authorization) number attached on all return packaging for proper and timely processing. RMA #s can be obtained through ForDiesels' Customer Care Center by emailing or calling.

New Returns are accepted within 30 days of purchase, new returns are subject to a 15% restocking fee. Shipping of New Returns back to ForDiesels is the responsibility of the customer.

Core Returns are accepted within 180 days of purchase, value of cores returned after 180 days will be determined by the Remanufacturer. Cores must be in rebuildable condition. Disassembled, burnt, or broken cores are not excepted and will receive no core credit. Note: ForDiesels offers a prepaid core return label on products with core charges, prepaid labels already have an RMA # associated for the return.

Warranty returns are accepted within the Manufacturer's warranty period. To get your vehicle on the road quickly, ForDiesels offers a replacement before return policy. We will ship a product replacement to cover the warranty product without charge for 15 days. This is a "within reason" policy meaning we will not ship a full set of injectors, if you feel you have multiple failures with a set of injectors we would need to have the injectors tested to determine which injectors have failure and why.

ForDiesels only offers products from highly reputable Manufactures/Remanufacturers, their warranty covers material or workmanship failures only. Installation error, fuel and/or oil contamination, foreign object damage is not covered under the manufactures warranty. ForDiesels will offer product replacement, within reason, NO credit will be issued if a product is determined by the manufacture to be in good working order or has failed due to reasons not covered by their warranty.
Find Similar Products by Category